ZytoDot ® 2C SPEC CDKN2A/CEN 9 Probe
The ZytoDot ® 2C SPEC CDKN2A/CEN 9 Probe is designed for the detection of CDKN2A deletions frequently observed in most tumor cell lines as well as in primary human malignancies. CDKN2A has been identified as a major susceptibility gene for melanoma. The tumor suppressor gene CDKN2A is inactivated by homozygous deletions with high frequency in a variety of human primary tumors e.g. bladder and renal cell carcinoma, non-small cell lung cancer, sarcoma, glioma and mesothelioma. Deletion of the CDKN2A gene is found in up to 80% of T-cell acute lymphoblastic leukemia cases.
---
Probe Maps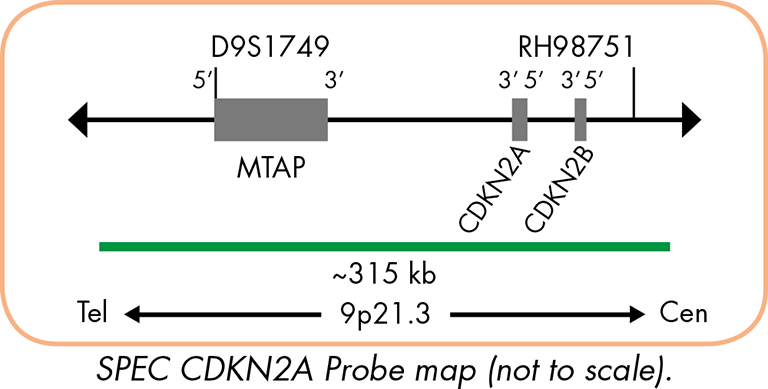 ---
Ordering Information
Prod. No.:
Tests¹ (Volume):

Registration Status²

:
C-3067-400
---
Download Information
---
1

Using 10 μl probe solution per test.

2

In vitro diagnostic medical device according to EU directive 98/79/EC.
CE IVD only available in certain countries. All other countries research use only!
Please contact your local dealer for more information.