ZytoLight ® SPEC MAF/IGH Dual Color Dual Fusion Probe
The ZytoLight ® SPEC MAF/IGH Dual Color Dual Fusion Probe is designed to detect the translocations affecting the MAF gene in the chromosomal region 16q23.2 and the IGH locus in 14q32.33. The translocation t(14;16)(q32.3;q23) is frequently found in multiple myeloma (MM).
Five recurrent primary translocations involving the immunoglobulin heavy chain (IGH) locus have been identified; they include t(11;14)(q13.3;q32.3), t(6;14)(p21.1;q32.3), t(4;14)(p16.3;q32.3), t(14;16)(q32.3;q23), and t(14;20)(q32.3;q12), which involve the genes CCND1, CCND3, FGFR3 and NSD2, MAF, and MAFB, respectively. All of these translocations lead to the dysregulation and overexpression of the target genes as a consequence of their juxtaposition to regulatory sequences of the IGH locus.
---
Probe Maps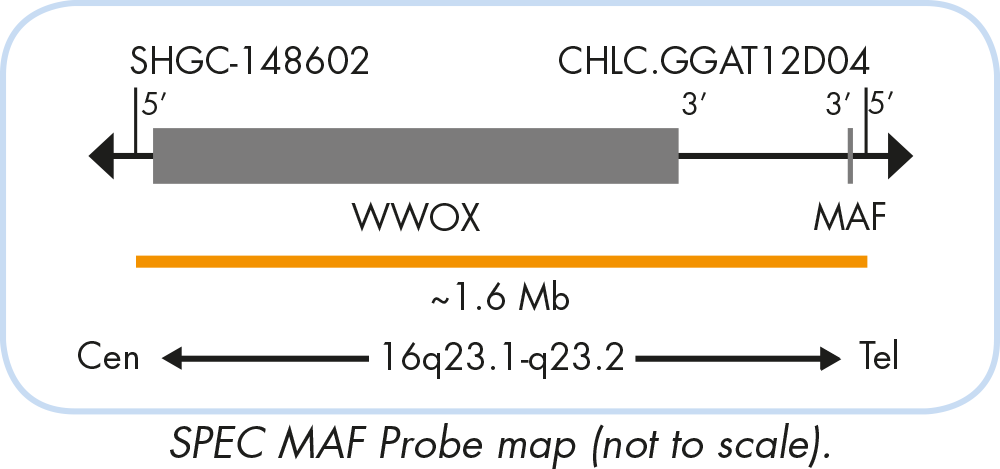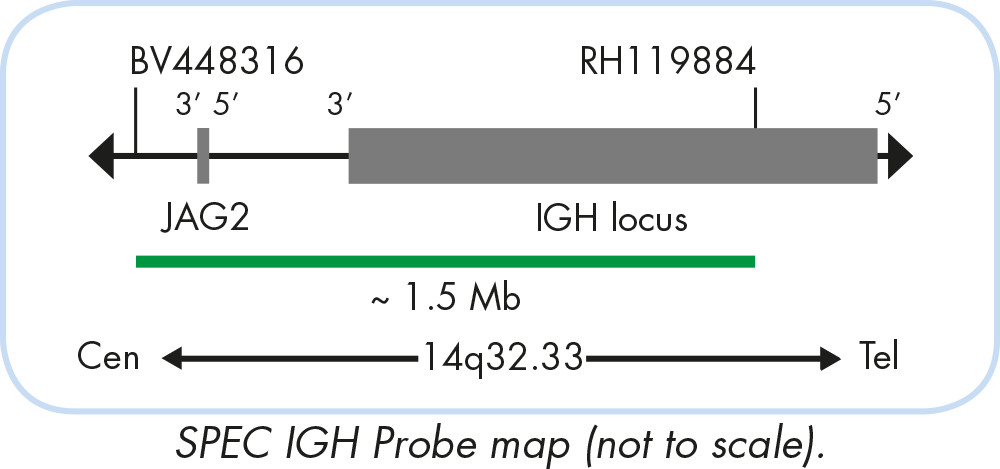 ---
Ordering Information
Prod. No.:
Tests¹ (Volume):

Registration Status²

:
Z-2270-50
---
Download Information
---
1

Using 10 μl probe solution per test.

2

In vitro diagnostic medical device according to EU directive 98/79/EC.
CE IVD only available in certain countries. All other countries research use only!
Please contact your local dealer for more information.