Introduction
The ZytoMation® probes combine the known high quality of the ZytoVision probes for Fluorescence in situ Hybridization (FISH) with an automated workflow. They are designed for fully automated FISH to detect genetic aberrations such as translocations and amplifications in formalin-fixed, paraffin-embedded tissue sections on the BONDTM fully automated systems (BONDTM-III, BONDTM-MAX, BONDTM RXm (RUO)) by Leica Biosystems (ZytoVision is not affiliated or associated with Leica Biosystems).
Fully automated Probes for the BONDTM system
Ready-to-use probes
Reduced hands-on time
High quality results
Fully automated 5 h protocol
---
Method Description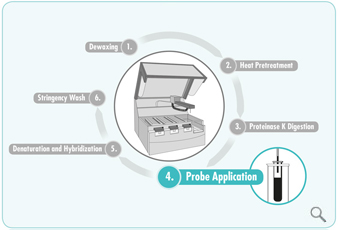 The ZytoMation® system uses direct-labeled FISH probes, making it compatible with automated staining protocols. A successful use of the ZytoMation® probes requires the BONDTM FISH Kit (DS9636). Before starting the BONDTM system, the BONDTM FISH Kit has to be complemented with the BONDTM Enzyme Pretreatment Kit and the ready-to-use ZytoMation® FISH probe transferred to the BONDTM Titration Kit.
The FISH signals are detected by fluorescence microscopy using appropriate filter sets.
Two factors that mainly influence FISH analyses:
Please refer to your local distributor for precise information regarding the suitable filter sets.
---
Compatible Mounting Solutions – long lasting, brilliant FISH signals