ZytoLight ® SPEC ETV6/RUNX1 Dual Color Dual Fusion Probe
The ZytoLight SPEC ETV6/RUNX1 Dual Color Dual Fusion Probe is designed for the detection of the specific translocation involving the chromosomal region 12p13.2 harboring the ETV6 gene and the chromosomal region 21q22.12 harboring the RUNX1 gene. The balanced chromosomal translocation t(12;21)(p13.2;q22.1), which leads to ETV6/RUNX1 fusion, represents the most frequent genetic rearrangement in initial childhood B-cell precursor acute lymphoblastic leukemia and has been associated with good prognosis.
---
Probe Maps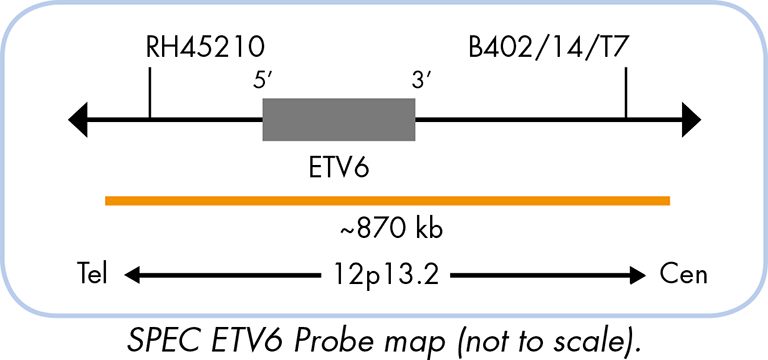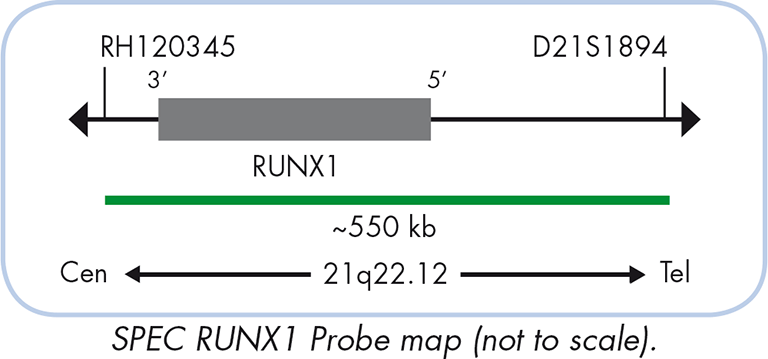 ---
Ordering Information
| Prod. No.: | Tests¹ (Volume): | Intended Use²: |
| --- | --- | --- |
| Z-2157-50 | | |
| Z-2157-200 | | |
---
Download Information
---
1

Using 10 μl probe solution per test.

2

CE IVD only available in certain countries. All other countries research use only!
Please contact your local dealer for more information.