ZytoDot ® 2C SPEC TOP2A/CEN 17 Probe
The ZytoDot ® 2C SPEC TOP2A/CEN 17 Probe is designed for the detection of TOP2A deletions and gene amplifications. TOP2A copy number changes are frequently observed in the majority of ERBB2 amplified primary breast tumors as well as in other human malignancies without simultaneous ERBB2 amplificaion, e.g., in acute lymphoblastic leukemias, gastric and bladder carcinomas.
Probe Maps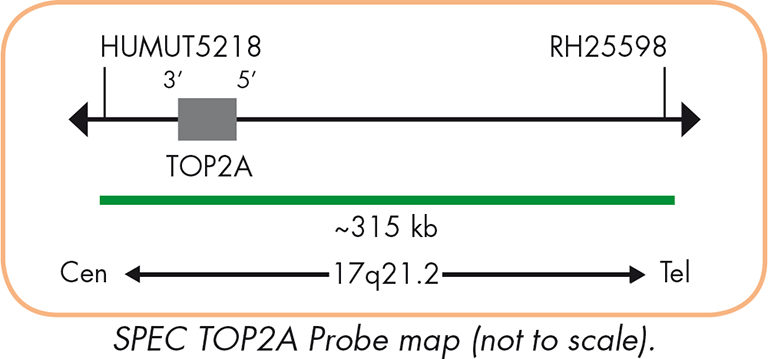 ---
Ordering Information
Prod. No.:
Tests¹ (Volume):

Registration Status²

:
C-3040-400
---
Download Information
---
1

Using 10 μl probe solution per test.

2

In vitro diagnostic medical device according to EU directive 98/79/EC.
CE IVD only available in certain countries. All other countries research use only!
Please contact your local dealer for more information.